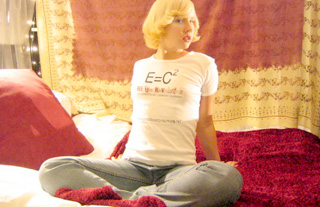 I've heard it said that girls love fashion, so I'm letting some of the girls I know take over this area. Holly Herbert will contribute a column, Megan Donoho will do what she does best (shop) & hip me on the finds. I will photograph whenever they feel like modeling. Above is Mary in the E=C2 T. The V-Girls will initially be wearing designs by Gaiam, WaterGirl, Pangaya, Lotus & the few other companies making conscious clothing. Click HERE to check out iall the C2 swag I'm workin' on. The Tee's I'm sellin' are some of the few things still made in the U.SA., by 'American Standard', a company with socially responsible practices. Mary is also made in the U.S.A.. She's in some more pix on the Viridian REVELution teaser page. Click here if U want 2 help the cause by being a a V-Gurl or to let me know you're ideas for the fashion consciousness section. And check out Conscious high fashion in the C2 MINDFULL MALL.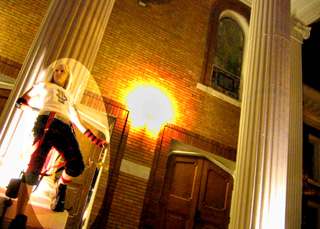 Latest V-Gurl Lena, Leanin' on my building..
pictorial comin' soon. (preview below)...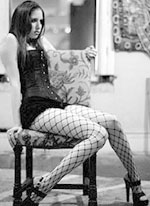 Beloved REVELutionary Sweet heart Miss Wendi will be back soon, modeling THE BUFF in the buff! ... Just kidding... This site is & always will be rated G. Stay tuned for my new site at ViridianRevolution.net for content that will get more into P.G. ratings. This REVELution will attack with the sword of comedy & the head-butt of 'Cosmological Quantum Communion'.
The Buff MULTIFUNCTIONAL HEADWEAR- I have one of these & I keep coming up with new ways to wear it... The Buff is highly recommended as part of the official 'multiform' of all 'TenetMen' & 'Knights of the Sphere Cabal' fighting in my dawning 'Viridian REVELution'.
In Love∞ - E.Haase
Check the new REVELution panties.. Tee Hee
See V-Gurl Rose Elixer in the new C2 baby doll shirts ... - Her pix coming soon, but the baby Doll T is available now
Lena In Viridian REVELution T. More of Lena soon.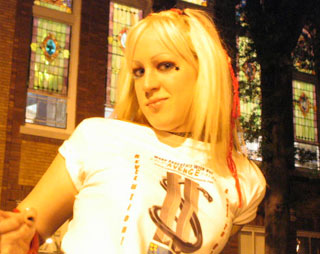 Shop organic cotton fashions available from Gaiam or check out all the good for you/good for all stuff I'm putting into my little 'Mindful Mall.'