Knowhere,FL 04/15/06 I invented a label for myself:
I am a "MetaPoliPhysician": (Meta - political - science - artist). I seek revolutionary environMENTAL

change without the violence that usually accompanies revolutions, via a genre I'm creating that I call "REFORMance Art". My 'Viridian REVELution' piece will introduce this genre. Despite some of the spookish imagery, this is a peaceful & comedic experiment in interactive filmmaking, social "happenings", books & music. The imagery & slogans are to awaken & lure compatriots, just as Patrick Henry & 'The Sons of Liberty did in the dawning American Revolution. Without their art, slogans & print press, the American Revolution may have never been. Patrick Henry, Sam Adams & Paul Revere had a print press,Deadman has he Internet & print on demand.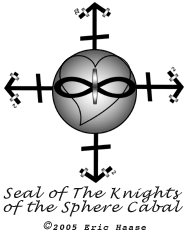 If U want to enter beyond this bardo, I ask that you 1st acquaint yourself with the C2 site, particularly the E=C2 equation, to become familiar with some of 'The REVELution's tenets. Then if you feel like getting involved in the quest you can contact mE.
We've begun the REVELution's; comedic & musical 'happenings', in the Tampa area.
I launched the web site explaining the modalities of this madness in Jan. 2006. E-mail mE (The Commander In Chief.. [Commander of Nothing, Chief of LESS]); if you're interested in joining with us, Or just message me if you wanna' tell me I'm nuts. With what's happening within earth's so called 'civilizations', I consider being called nuts a compliment=->
The "Declaration of INTERdependence of the 11 United Mental States of Viridia" & the web site beyond this page specifically lays the reasons & groundwork of the opening phases of this 'REFORMance Art' REVELution.
You may also join the C2 E-mail group to be kept informed of the REVElution's misadventures.
Join The Viridian REVELution.
Wage 'PeaceFair' in the fight against DeathCULTure.
The following is excerpted from the
' Viridian Declaration of INTERdependence'
Much of recorded history hath shown that humankind is disposed to ignore evils while evils are ignorable, than to right themselves by abolishing the effects of evils they are becoming slackened & bloated by. However, when repeated abuses pursuing the same object, which in our case seems to be that which has

been called the 'root of all evil', probably because of its ability to implant greed, covetous, & all manner of warfare amongst humankind, then humankind must cast off the slackening blinders & bloat & make objective assessments. In so doing we may find that humankind has been evinced of what Abraham Lincoln called "the higher angels of his nature". 'Proper ganders' may show that the root of all evil has pit humankind against itself & their very sources of biological sustenance, & placed the majority of living creatures under the absolute despotism of a
'DeathCULTure ani-graphic © 2005 DeadmanTalking
It is our right, indeed it is our duty, to throw off such systems, & to provide new infrastructures for the future security of all biological entities & the integrity of the only known planet upon which any biological entity has a snowball's chance in Hell of existing.. This statement is literally true, as most known celestial bodies are nuclear furnaces which disintegrate biological entities, just as we have, by choice, engineered our neutron bombs to do.

Such has been, & will worsen to be, the patient sufferance of biological entities; & such is now the necessity which constrains us to alter our present infrastructures. The Viridian REVELution I propose will fight no human, governmental or biological entity, because THEM ARE US.
However,we must do something to expose deathCULTure B-4 we are forced to fight it Old-School style, like this.. Clicking 'Old School' will begin downloading a 7 M.B. streaming video, so if you have a slow connection be patient! (It only takes about 30 seconds via broadband). This is a trailer I directed from a cyberpunk sci-fi screenplay I pitched to the Sci-Fi channel after I graduated film school.
My film's theme centers on a sect of street warriors trying to preserve the last hidden bastion of uncorrupted biosphere from a corporate theocracy bent on destroying all evidence of the natural world in an otherwise, completely synthetic age. It's a sci-fi/quantum - ghost story/ war - epic/ monster movie with environmental & historical signifigance.. The ultimate cult film for a synergetic future.
I wrote & directed the trailer & produced it with my buddy Michael Delgado who made all the sets, props & costumes & showed me how to set things on fire without burning them down. We shot it guerilla style in & around Miami on a shoestring budget from the Sci-Fi Channel. As I create this Viridian REVELution piece I'm thinking that this film's time may come again, so I'm dusting off & updating the screenplay to have it at the ready.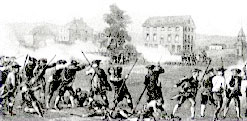 Lexington, Mass., April 19, 1775
Old School fighting vs my New School of PeaceFair...
I have a plan, but others are needed to wage 'PeaceFair in this 'Reformance Art' 'Viridian REVELution.'
Art is our weapon, comedy our sword, integrated spiritual cosmology our head-butt.
Please also interact with the economic arm of the REVELution at ConsciousConsumers.net or view some of my other environMENTAL art on the ImagiMedia web site. Elan vitale!, -E.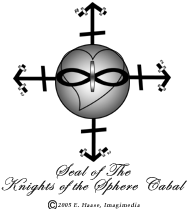 ..AND, of course, you can't have a REVELution
without a freakin' T-Shirt ... and..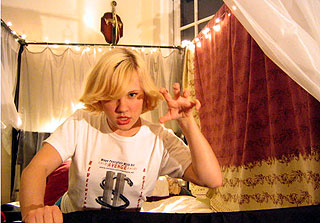 &, All the best REVELutions have PANTIES!