[ Tampa, 12/14/04 ] I live in Tampa, where homes have an above average chance of blowing away and/or flooding during the hurricane season. I lived in Miami during Hurricane Andrew, saw total destruction, & lost most of the belongings of my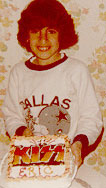 childhood.. (I still mourn my lost photos, baseball cards, G.I. Joe with the Kung Fu grip, Kiss army card & autographed Kiss "Destroyer" record.
...That's me in the pic with my Kiss cake on my 11th B-day. This is 1 of the few pictures that survived Andrew.. Probably because Kiss rules =->

In order to avoid such catastrophic loss of personal crap in the future, I have begun design on the home I plan to build here in Tampa.
This project has a higher purpose than protecting my autographed Stanley Cup Winning Tampa Bay Lightning hockey stick, however.
I have dubbed this project the "East Star Earthship Project" because my hope is that this home will be so different from anything existing on the East coast that it will inspire others to begin building with green architecture, sustainable construction, renewable power systems & biotechture methods. Above all else, this home must accomplish the mission of being at least partly energy self sufficient, hurricane resistant & technologically advanced with respect to creature comforts & eco--style.
I consider it a crime that the so called "Sunshine State" lags far behind in the area of solar powered homes ( or solar powered anything, for that matter). My hope is that a few well designed environmentally conscious eco-homes will begin the Green construction trend that to this point is almost absent on the East Coast of this great nation. Until I can pull off financing this home, I'm working on THIS ONE.
The destruction - resistant home idea I had before now, was to buy an old cold war missile silo, cap it with a geodesic dome & ride out my days there. Problem with that was that most of those cold-war silos are in places where it's, well, cold. Plus, the idea is to do this home on the east coast where ecologically conscious homes are a rarity & "Earthships" are nonexistent.
My design differs from any design I have come across. Here's the image that I've been carrying around in my head..
My 'East Star Earthship' will enclose the living space with a geodesic framework. If you've ever been to Epcot center, you know what a geodesic structure is.. (It's the giant dome overshadowing the park.- see pic, below).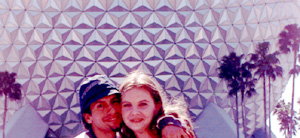 The geodesic dome structure (background & Me -n- pain in the butt ex-girlfriend- foreground.
My earthship would utilize the top one-third of a geodesic dome structure to enclose it's living space.
The circumference of the outer part of the circle, where the structure meets the ground would be anchored by poured concrete. Picture a concrete 'donut' or ring around the bottom circumference of the segmented dome. This serves the dual purpose of firmly anchoring the structure & keeping any floodwaters out.
Additional flood protection may come from digging a mote-type channel into the earth around the buildings circumference to channel ground seepage around the home. The only way that I can figure the structure flooding, would be directly through the floor, if the surrounding earth were to be completely saturated with water. This could happen in a catastrophic flood situation, which would probably equate with the entire home actually being underwater. That is a possibility here in the Tampa Bay area, so the best policy for flood protection, as always, is to capture the high ground & build there. This is why my earthship will be built in Tampa Heights.
Tampa Heights is a historical district however, so my home would have to at least 'look' old. Looking historical & being green-hi-tech is less of a problem these days.
The Geodesic structure has natural hurricane protection, in that it is spherical & would let wind flow over it. There is nothing to 'catch' or confront wind head-on. Wind would be channeled right over it.
The Geodesic structure also affords interesting possibilities for solar energy production. Panels can be placed at the multitude of angels provided by Bucky Fuller's ingenious design. The multitude of angles would allow for different panels to be pointed directly toward the sun at different times of the day.
I'm in patent research with an architect friend of mine on several other aspects of my plan, so be sure to sign up for the C2 E-mail group to stay up to date on this & other stories featured on the site.
p.s. Being a musician, I would also experiment with using some of this enclosed space as a recording studio. The acoustic qualities of the geodesic structure, it seems , would be ideal (i.e. no flat surfaces facing each other).
Again, the main purpose of this project, is to serve as an east coast example of high-tech sustainable energy & Viridian Green living. I would hope to inspire others, including contractors, to build this way to help take stress off the home insurance industry as well as the energy grid & it's resulting Co2 emissions upon the biosphere. I've dubbed this action - method of inspiring others through example; "exampling". More comfortable, technologically superior high-tech living which doesn't preach to others but seduces them into conscious environmental change, I've dubbed "synerduction" (synergy - seduction).
E-mail me w/ your thoughts.